Find the strongest stock picks with Zacks Pro Screener.
With this institutional-grade screener, you can easily find the strongest picks among 8,000+ securities using an array of Zacks' proven screening strategies—then evaluate your strategy's potential for success before you trade using 20 years of Zacks historical backtesting data.
Identify stocks by their Zacks Rank—our proprietary, predictive quantitative model based on earnings estimate revisions
Spot market-beating picks with our proven default strategies or create your own
Choose from 1000+ metrics or calculate your own
Add more customization by integrating with Zacks Excel Link
Get reports when you need them through automated screening and reporting processes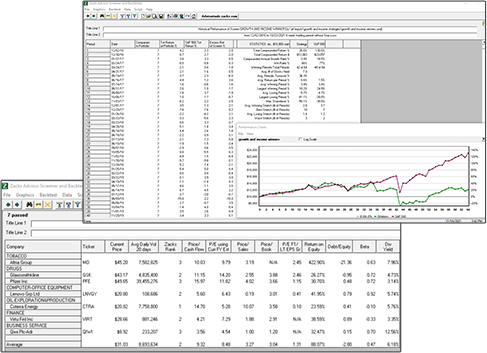 Use our pre-built, profitable strategies.
Whether you seek high-flying growth stocks, deeply discounted value stocks, fast-paced momentum stocks, steady income-producing stocks, or a mix of various styles, we have a time-tested strategy for you.
+43.2%

New Highs

+44.4%

Value Method 1

+50.4%

Small-Cap Growth

+51.2%

Filtered Zacks Rank 5

+54.5%

Big Money Zacks
Add Zacks Pro Screener to your subscription!
Talk to your Advisor Tools representative today to upgrade your Advanced Screener & Backtester.